My lovely friend Lucy had an amazing holiday in California with her husband and two sons. Here she shares one of her highlights – cycling across the beautiful Golden Gate Bridge.

San Francisco was the first stop on our three week tour of the West Coast of America. We arrived in Fisherman's Wharf, staying for four nights at the Argonaut Hotel and the highlights were Alcatraz and of course The Golden Gate Bridge, which we were going to cycle across.
San Francisco can only be described as a hybrid between Camden Town and New York City!  The Wharves were heaving with tourists with every shop catering for them. We found all the Alcatraz paraphernalia you can imagine, from snow globe Golden Gate Bridges to Alcatraz prison pyjamas!
When it came to cycling, we found a bike place next to the hotel (there's one on every corner) and our two boys, aged 7 and 11, and my husband and I were fixed up with helmets and a fairly basic bike each. It cost around $50 per adult per bike.
We were then pointed in the direction of the bridge and that was it! I don't think we would have attempted it had our 7-year-old not been a competent cyclist but he's coordinated and fearless, so off we went.
Now the bridge wasn't really where we thought it was going to be. It's so huge that it was a good hour of cycling from our hotel before we actually reached it, even though it looked so close! It wasn't a bad hour, but it seemed to last a long time, as you could see the bridge in the distance but it didn't seem to be getting any closer. On our way to it there was a thong of people all headed in the same direction, and all cycling along the side of the river. Everyone was excited to see when the entrance to the great bridge would appear.
We finally reached a point where we were were directed up a very steep path, leading to the entrance. And there it was: The Golden Gate Bridge, in all it beauty.
But (there had to be a but)…getting onto it was quite tricky. There were just so many people and groups all trying to stick together and claiming right of way. Fortunately, the cyclists and pedestrians were separated from the cars by a barrier but I'd say the whole experience was, for me, rather hairy.
Having said that, though, the Bridge is awesome, rusty red in colour (definitely not golden!) and impressive and massive, and thrilling to be cycling across. It's quite an experience.
However, once you are on that Bridge, it's every man (or person) for themselves. If you are in a group, as we were with two children, you want to stick together but it's single file with a few trying to get in front whilst continually dodging the pedestrians.
The Bridge is so vast that, when looking up, it disappears into the clouds. Looking down? Well we didn't do much of that as it was so high up it was just a bit too scary, particularly for the adults!
Cycling across took us about half an hour and once over we felt exhilarated and excited. We then continued cycling down into a place called Sausalito , a beautiful and picturesque town where we caught the ferry back to Fisherman's Wharf. We felt it was too much to cycle back over the Bridge and the 20 minute ferry ride was great fun after such an achievement. It was a fantastic activity and something the whole family will never forget.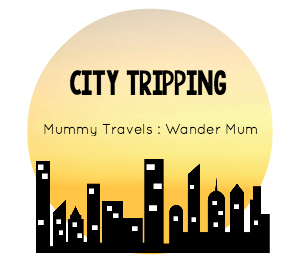 More from America:
Three days in Washington DC with kids